| | |
| --- | --- |
| Dien Rice | February 5, 2012 03:26 AM |
---
An unusual kid's business... from 1952!

I was scouting around for interesting businesses, and stumbled across this article about an unusual kid's business, from a newspaper from 1952!
(From the Sarasota Herald-Tribune, June 30, 1952.)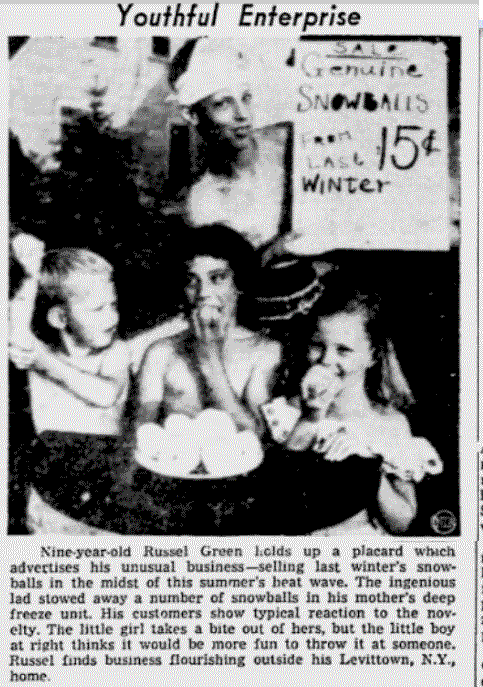 Here's the text...
-----
Youthful Enterprise
Nine-year-old Russel Green holds up a placard which advertises his unusual business - selling last winter's snowballs in the midst of this summer's heat wave. The ingenious lad stowed away a number of snowballs in his mother's deep freeze unit. His customers show typical reaction to the novelty. The little girl takes a bite out of hers, but the little boy at right thinks it would be more fun to throw it at someone. Russel finds business flourishing outside his Levittown, N.Y., home.
-----
He's not getting rich at 15 cents a snowball - but I bet he and all the neighborhood kids had a lot of fun!
There may be some twists on this idea... apart from storing snowballs from the winter in your freezer, maybe you could
manufacture
snowballs in the summer-time? Perhaps start a snowball-throwing summer-time birthday party business?
- Dien
| | |
| --- | --- |
| -TW | February 5, 2012 03:51 AM |
---
Re: An unusual kid's business... from 1952!

That's very cool! (pardon the pun)

Maybe there's a way to make each snowball be worth more.
Maybe the snow is taken from famous places. Or from the front lawns of famous people. Or from the locations of famous sporting events.
| | |
| --- | --- |
| Phil | February 5, 2012 04:15 AM |
---
Re: An unusual kid's business... from 1952! How Economics & Ideas have Changed! ...

Thanks Dien!
Definitely interesting How Economics and Ideas have Changed from the Good ol' Public Domain related Times... PR/Public Relations, Media etc... etc...
Lots of [Bring Back] Ideas and Opportunities in Your Snow Ball post! ...
Advance 50 Years or So... Add misc. Snow related Keyword Phrases into the Swing of Things...
And Out Pops A Fresh New [Economically] Lucky Kid with A Smart Entrepreneurial Mind full of Ideas Too! ... :)
http://www.ksdk.com/news/local/story...237825&catid=3
All the best...
Phil
All times are GMT -4. The time now is

11:20 AM

.
Powered by vBulletin Version 3.6.0
Copyright ©2000 - 2020, Jelsoft Enterprises Ltd.