Quote:
---
Originally Posted by Adman (Post 30550)
One of my first "Ad Programs" was putting ADS on "Shirt Boards". These were cardboard sheets that dry cleaners placed inside shirts to keep the shirts from getting crumpled.
I provided dry cleaners with FREE Shirt Boards (I made money placing Ads on them)
Well (get ready, here comes da "BS") One day I was having coffee with one of my Dry Cleaners and he was talking about how he wished he could come up with a Promotion Idea where he didn't have to discount his prices to stay "competitive" with his competitors (Those were the days of "One-Hour Martinizing")
So....in one of the dry cleaners on my route....I remembered seeing a "
GOLD" Hanger
hanging on a stand with a sign that said....
THE GOLDEN HANGER
Beautiful Hangers for your Guest Coat Closet
GET ONE FREE
With Every Order of $25 or More!
Well...according to this dry cleaner "when faced with a choice between reducing prices and giving something away free… give something away free!"
He found a way to Significantly Boost his Sales And Profit
Without The Use Of Discounts Or Coupons
---
That's a great story - about the use of a "premium" in an industry where you don't see it too often...
Premiums work! All those extra "bonuses" you see on those internet marketing ads are premiums too. As well as those offers of an extra "this or that" if you renew your subscription to a magazine, for example...
(I remember my Dad once got a camera - in the pre-digital camera days - for renewing his subscription to Time magazine...)
Here's an interesting one. Order some coffee - and get a free coffee maker!
Apparently this has worked very well for Gevalia (which sells coffee), in their direct mail marketing...
The coffee maker is worth more than the initial coffee order! (In their current offer - it has a $90 retail value, for a $24.99 initial order.)
However... When you count the average
lifetime value
of repeat orders - they make great profits with this offer!
They've been making this offer, or a similar one, for at least 15 years... So it's gotta be working!
Here's the offer as it is from their website...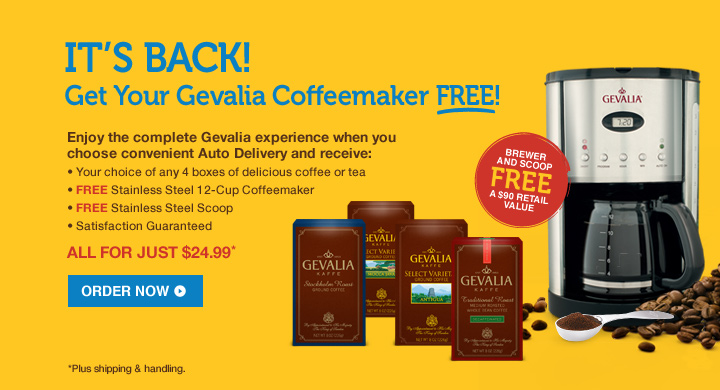 (I've added a second ad of theirs as an attachment.)
More info about this promotion here...
http://www.directmarketingiq.com/art...-premiums-777#
(article about this, written in 1999)
http://www.gevalia.com
(you can see their current offer here)
Best wishes,
Dien