I was scouting around for interesting businesses, and stumbled across this article about an unusual kid's business, from a newspaper from 1952!
(From the Sarasota Herald-Tribune, June 30, 1952.)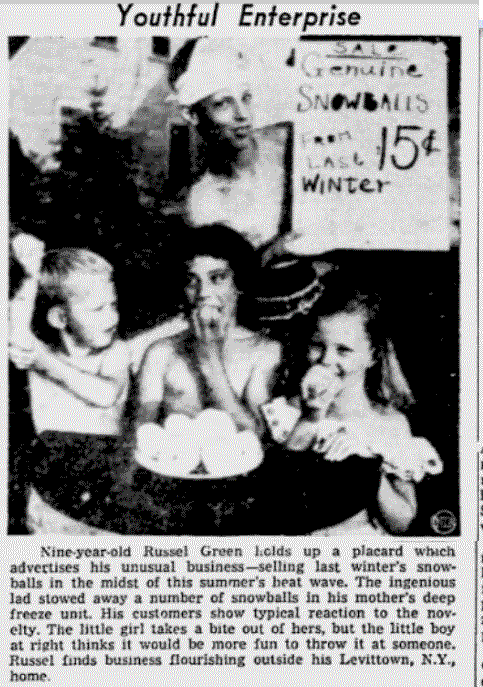 Here's the text...
-----
Youthful Enterprise
Nine-year-old Russel Green holds up a placard which advertises his unusual business - selling last winter's snowballs in the midst of this summer's heat wave. The ingenious lad stowed away a number of snowballs in his mother's deep freeze unit. His customers show typical reaction to the novelty. The little girl takes a bite out of hers, but the little boy at right thinks it would be more fun to throw it at someone. Russel finds business flourishing outside his Levittown, N.Y., home.
-----
He's not getting rich at 15 cents a snowball - but I bet he and all the neighborhood kids had a lot of fun!
There may be some twists on this idea... apart from storing snowballs from the winter in your freezer, maybe you could
manufacture
snowballs in the summer-time? Perhaps start a snowball-throwing summer-time birthday party business?
- Dien