Quote:
---
Originally Posted by MikePT (Post 42182)
When selling to a sophisticated audience can visual layout
MAKE IT OR BREAK IT?
NOTE: I putted "Consulting" on the title but the question is really for both Products and Services in general.
And i said purposefully "sophisticated market" because "rich market" is too broad.
A person can be a "nouveau riche" with lot of money and not sophisticated – and vice versa.
I am sharing here this AD that is on Drayton's website for Bentley:
https://draytonbird.com/the-proof-of...dding/bentley/
The AD is gorgeous.
And, of course, when selling anything visual (like jewlery) the photos have to be TOP photos.
However I am asking specifically on the visual layout when targeting "sophisticated markets" – regardless of the product.
Maybe more important that the visuals are the medium. Like a well regarded print magazine.
Your thoughts?
Thank you all.
---
Hi Mike,
Whether visual layout is important depends on what the customer is looking for!
Customers for Bentleys are mostly looking for STATUS vehicles, I would say...
They want a car put together which is better, made out of better materials, runs better, won't fall apart, has better engineering, etc., compared to other cars...
They want a car which the manufacturer spent money on, and in return, they're willing to spend big money to buy it...
So, a company that spends BIG MONEY on making a slick-looking ad reflects exactly what the customer is looking for! They want a manufacturer willing to spend big money to make the car!
Now, let's say a customer, instead, is looking for a grandmother's home made jam, from a traditional recipe within the family, passed from mother to daughter...
A very expensive, slick ad probably does NOT reflect what they are looking for! In fact, it would convey the OPPOSITE of what they want...
In fact, probably a hand-written ad would reflect much better what they want... Something traditional, folksy, home-made...
It all depends what the customer is looking for...
The business which provides better what the customer is looking for - and can communicate that - will in most cases win...!
Here's an absolutely crazy ad along these lines (that worked)... By Bill Glazer, long-known as Dan Kennedy's business partner...
Bill Glazer ran men's clothing stores...
Here's a completely hand-written 5-page direct mail ad! It's almost the opposite of the Bentley ad... It looks amateurish!
But who is it appealing to? It's appealing to those who want a BIG DISCOUNT on their clothing!
They're NOT looking for the most expensive, most exquisite tailoring... They want someone who needs to sell at a big discount, needs to sell cheap, so they (the customer) can save a lot of money!
Here's the first page... click on the link afterwards for the whole thing...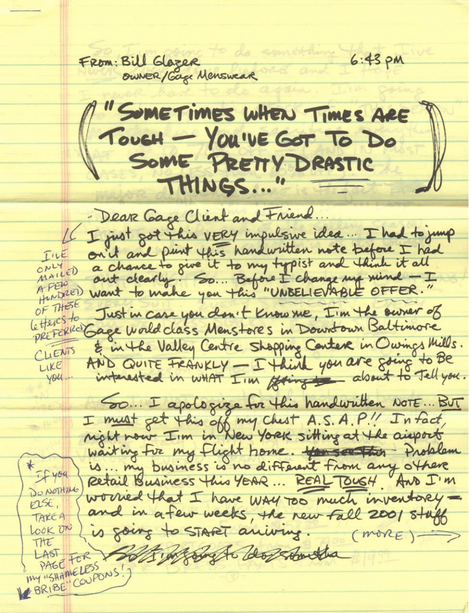 Full thing here...
http://oliluke.com/outrageous-direct-mail/
I hope that makes sense...
Best wishes!
Dien