7 Easy Steps to Information Products (IP) Profits
report by Gordon Jay Alexander
Get yours, Free!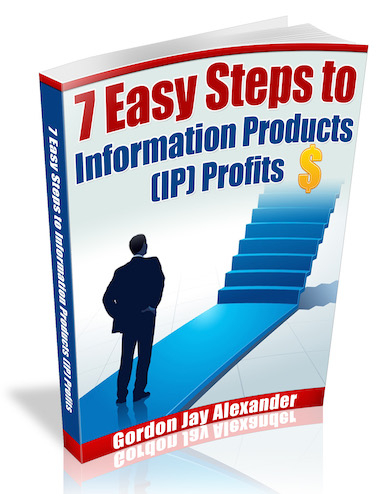 Gordon Jay Alexander has a great report, called 7 Steps to Information Products (IP) Profits...
This report has only been offered ONCE before, to my knowledge. And to get it, people had to buy it.
Here's why you'll want to get it yourself, this time around...
You'll find out things like
The formula for writing quick articles.
The 7 Steps to Information Products (IP) Profits, in detail
A great example of one guy who's doing this, writing about a common household product!
How he got started by taking Gordon's advice, and has turned that small report into a "mini-empire"...
This info could help launch you on a new, profitable source of income... And help you build a more secure, and more enjoyable lifestyle...
I know we have a pretty smart crowd here. This report was written for people like you...
And today, it's yours free...!
To get it, enter the following information...
Best wishes,
Dien Rice
P.S. Gordon is recording some additional helpful and profitable info... which adds to the 7 Easy Steps to IP Profits report... That info is also yours free, too!
For those who get the report, we'll be sending the additional recordings to you by email, too, in a day or two...